'Saint Gertrude' session
June 8, 2022 6:40 am
Dear Reverend Mother, Dear Reverend Father,
As you know, the Benedictine and Cistercian Orders (the Cistercian Order and the Cistercian Order of the Strict Observance) wished to work together to obtain the title of "Doctor of the Church" for Saint Gertrude of Helfta. They set up a "Committee" which did a lot of work and, among other things, organized two major "Saint Gertrude" congresses in Rome, thanks to Mo. Augusta Tescari, then secretary.
The discovery of new manuscripts, especially the Leipzig Ms 827, implies a re-evaluation of what we have known until now and leads to a renewed knowledge of Saint Gertrude. The 'Committee' has launched a whole work of editing the Leipzig Ms 827 manuscript and encourages its study.
Then, in order to make the research on the writings of St. Gertrude advance, it is important to present the characteristics of the forthcoming edition of the manuscript, the criteria followed in the work, and to make known the main problems of literary criticism that Ms L827 proposes, in order to arouse the interest of other scholars in studying the manuscript. The opportunity comes to us with the Leeds Medieval Congress (G.B.) in which we organize a session on these issues.
The 'Saint Gertrude' session will take place on Thursday 7 July from 9.00 to 10.30 am (Leeds time, but please note: from 10.00 to 11.30 am Paris time!).
This session will take place entirely via internet. It is accessible to all those who wish to attend.
Fr. Jacques Delesalle (Mont des Cats, currently in Vitorchiano, Italy)
Secretary of the "Saint Gertrude Committee"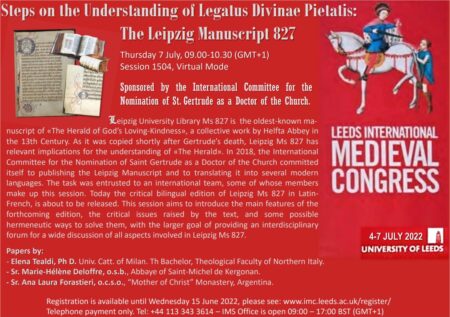 Brochure of Leeds' Congress Session
Flyer of Leeds' Congress Session
Categorised in: Events